Emergency Industrial OSHA Standards Released: COVID-19 Infection Prevention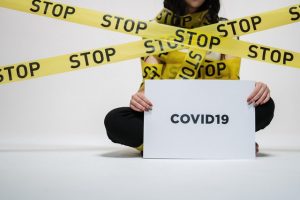 Workplaces and industries play a huge role in the spread and mitigation of COVID-19. Workers working in industries need protection from this virus, and it is their basic right. They are at risk of contracting COVID-19; the risk varies depending on the occupation of the job. It depends on the type of work performed, interaction with people, and workplace environment. You need to be aware of the precautions to take in industrial spaces.
With industries re-opening, you need to maintain open, safe, and healthy workplaces. The measures can protect workers, their clients, and the community at large. To safeguard their employees from the COVID-19 virus, employers should adopt preventive measures. These would include encouraging vaccinations, working from home, providing with necessities such as masks, physical distancing, and disinfecting industries. If you're looking for sanitization services in Birmingham for your industry, 911 Restoration has got your back! Here are few precautions every industry should follow.
Encourage Them to Get Vaccinated.
Get a covid vaccine as soon as you can. Ask your employer for a paid leave to get vaccinated that day and recover from any side effects of it. You should get vaccinated as it might help mitigate COVID-19 and protect you and your loved ones at an increased risk for severe disease.
To help your employees know employers could hold the importance of COVID Vaccine, presentations, and informative sessions at the office. Not everyone is aware of them, and there are many misconceptions about them in society that prevent them from getting one. OSHA suggests adopting policies that require vaccinated policies or undergoing covid testing regularly if they remain unvaccinated.
Work from Home
If employees, vaccinated or unvaccinated, have come in contact with someone with COVID-19 recently should remain at home and work from there; this is to protect other employees and reduce the risk of transmission.
If your employee is fully vaccinated and has known to be exposed to someone with confirmed COVID-19 should get tested after 3-5 days of exposure, and they should wear a mask in public until they receive a negative covid test.
People in your workplace who are not fully vaccinated should be tested immediately and also after 5 to 7 days after exposure. If they develop any symptoms of COVID-19, they should be quarantined until they get tested negative. Work from home should now be a policy in industries, and employers should eliminate any policies that encourage workers to come to work sick.
Physical Distancing
COVID-19 virus can spread rapidly in enclosed spaces and spread easily if the person infected coughs or sneezes. Maintaining physical distance between employees and from customers are extremely important when it comes to controlling the spread of COVID-19.
In industries, workers are required to work in closely for long periods, which could spike COVID-19 cases. To protect your employees, you need to distance them from other outsiders and workers physically. It is generally recommended to stay at a distance of 6 feet from everyone.
Provide With Necessities
Whether fully vaccinated or unvaccinated, wear surgical masks in an enclosed, poorly ventilated space. Provide your workers with necessities such as masks and sanitizers. Employers at work should also restock facilities such as liquid soaps in all bathrooms, and workers should be encouraged to wash their hands regularly. COVID-19 can spread easily through physical contact, so you need to sanitize and disinfect your hands as soon as you come into contact with someone else.
Ventilation Systems
Ventilating indoor air with outdoor air is crucial when it comes to mitigating COVID-19. People working in poorly ventilated spaces are at risk of being infected with COVID-19. This virus can spread rapidly indoors. It is important to open windows and doors of your workplace to enable cross-ventilation and for outside air to ventilate the room. HVAC systems can also help with this. They filter the air as it is regulated. This function can help mitigate COVID-19.
The regulation reduces the number of airborne contaminants including, including viruses, indoors. Again, the HVAC system helps reduce the risk of contracting COVID-19. A well-maintained ventilation system is particularly important in any indoor workplace setting, and when working properly, ventilation is an important measure to limit the spread of COVID-19.
Disinfection
COVID-19 can spread through touching things around and then touching your face, nose, or eyes with the same hands. It is the employer's job to get their industries and offices regularly disinfected and sanitized. It is essential to get the place disinfected if someone who has been in the office within 24 hours is suspected of having or confirmed to have COVID-19.
Sanitizing an area thoroughly is not always a one-person job. If you have to sanitize your industry in Birmingham, consider using a restoration company to disinfect the area. 911 Restoration has experienced sanitization specialists available to clean and disinfect your space. Call (205) 440-3745 to speak with the experts about sanitization. Our priority is customer satisfaction, and our services are available 24/7 for your ease. In cases of emergency, they provide their specialists within 45 mins.