Water Damage and Mold Removal in Bessemer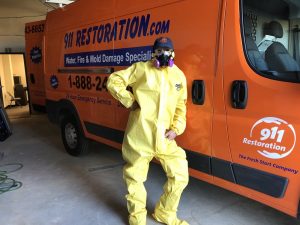 Do you need help recovering from a flood, hurricane, or pipe burst in Bessemer? You can get the professional assistance you need from 911 Restoration of Birmingham. You can reach our IICRC certified water damage restoration and mold removal experts 24/7/365. Start getting a Fresh Start within 45 minutes by contacting us when you need assistance. We can:
Help You with a Flooded Basement or Crawlspace

Begin Immediate Water Extraction

Dehumidify Your Property with Professional-Grade Equipment

Repair Damage Caused by Hurricanes or Tornadoes

Fix Issues Caused by Leaking or Frozen Pipes

Handle Mold Remediation and Mold Decontamination
Bessemer flood cleanup techs can begin renovating your property after they complete a water damage and mold inspection. This inspection can allow them to develop a personalized plan for mold removal and water damage restoration in Bessemer.
Why Start Water Damage in Bessemer Right Away?
You may be unsure what to do immediately after a hurricane, flood, or pipe burst. The professionals recommend that you begin water damage restoration and mold removal as quickly as possible. Getting expert assistance with flood cleanup can:
Lower the Total Damage to Your Property

Reduce the Costs of Property Restoration

Cut Back on the Time It Will Take to Finish Water Damage Repairs

Reduce Your Odds of Experiencing a Mold Infestation
You can get same-day help if you have a flooded basement, overflowing toilet, or frozen pipe. The flood cleanup pros at 911 Restoration of Birmingham can reach your property in under an hour to begin removing water and renovating your home or business.
Bessemer water damage restoration techs can also check for signs of fungal growth with a mold inspection. If they spot signs of mold while handling a flooded basement in Bessemer, they can immediately start mold remediation and mold decontamination.
Will Bessemer Mold Remediation Techs Work Quickly?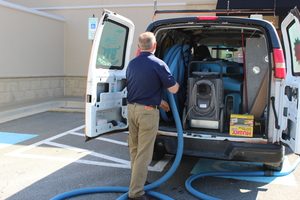 Here at 911 Restoration of Birmingham, we understand that you want your property returned to better-than-new condition as quickly as possible. That's why Bessemer mold remediation techs focus on working quickly, but without cutting corners. Licensed, bonded, and insured techs can generally complete mold removal in Bessemer within 1-to-5 days.
Mold decontamination and flood cleanup experts have the training and experience to take on any water damage emergency. We have the resources to handle pipe bursts, hurricanes, a flooded basement, or a sewage backup. 
Let us develop a personalized water damage restoration and mold remediation plan for you right now. Techs will assess your unique needs with a water damage and mold inspection in Bessemer. Using the results of your water damage and mold inspection, they will focus on completely renovating and restoring your home or business. Get a Fresh Start after a flood or pipe burst by contacting us for flood cleanup and mold decontamination in Bessemer.
Servicing the cities of Adamsville, Adger, Alabaster, Alton, Bessemer, Birmingham, Brighton, Cahaba Heights, Calera, Center Point, Chelsea, Clay, Columbiana, Dora, Fairfield, Forestdale, Fultondale, Gardendale, Graysville, Greystone, Grove, Helena, Homewood, Hueytown, Indian Springs, Irondale, Leeds, Maylene, Midfield, Montevallo, Moody, Morris, Mount Olive, Mountain Brook, Mulga, Pelham, Pinson, Pleasant Grove, Shelby, Shoal Creek, Springville, Sterrett, Trussville, Vestavia, Vestavia Hills, Vincent, Warrior… and surrounding areas.