Sewage Backup Birmingham
Sewage backup cleanup is a job for professionals such as Elton Riley and his sons with 911 Restoration Birmingham, because, left alone, these incidents can become toxic. Do not attempt to clean up a toilet overflow yourself as the liquid is full of harmful bacteria.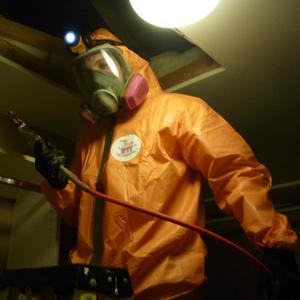 Working with apartment management companies, the Riley's have become the go-to sewage backup solution for more than 10,000 apartments in the area.
"When people get a sewage backup, they imagine their home will never be the same again," Elton says, "but we can always bring them back, and most times we make them better than new."
A sewage backup is one of the last things that homeowner's want to have occurred, but due to the aging infrastructure of the drainage and water delivery systems, they are an inevitability in the long run.
This is why Elton and his sons are always ready for anything, and they can even respond on-site within 45 minutes of an emergency sewage backup cleanup call.
"We always put the customer first in these situations," Elton says. "We know how traumatic these situations can be for homeowner's and that's why we do everything from helping them temporarily relocate, to doing the category three water extractions."
Elton and his sons are specialized, trained to handle just such situations, and we advise any property owner experiencing this chaos to immediately call our sewage backup cleanup Birmingham to avoid contamination ingestion which can cause serious health effects if left untreated.
Sewage Stopping Solutions
The Riley's have been through enough sewage backup scenarios to know that there are some ways property owners can prevent these situations from happening at all.
One way to do so is to have your sewage back-flow valve inspected by a professional like the kind with 911 Restoration Birmingham.
It's also suggested to have all the pipes in your home that connect to the sewage line to be scoped with the latest snake cameras, which will illuminate any clogs that may create a backup and force unwanted and tainted water into your home.
Replace old, cracked and stressed pipes. Being so full of history, Birmingham is also full of decrepit pipes that make up the sewage drainage infrastructure."Many of the houses and businesses of the area are built on old systems, and so they have old pipes," Elton says.
Stressed pipes can crack or break which then spew unwanted sewage into your home or business. This can be avoided by simply doing the proper maintenance, and replacing failing systems when needed. Even if you maintain your property to the best of your ability you may still experience an overflow, and when one occurs you can call us right away.
The Riley's Really Care About your Sewage Backup Restoration
With over 10,000 apartments to service, and the tendency of renters to take less care of their facilities than property owner's do, Elton has loads of experience solving all aspects of sewage backup cleanups.
"From wet wipe clogs, to kid's toys, and personal mementos, I've seen every kind of clogged pipe there is," Elton says. "And I've seen them all do some pretty incredible damage once they turned into sewage backups."
There's nothing pretty about any kind of restoration related issue when it comes to your home, but no matter what, Elton and his sons at 911 Restoration Birmingham are more than capable of solving it for you.
They even go the extra mile to file your insurance paperwork on your behalf so that you can get back to living in your home as painlessly as possible. "We want to walk people through every step of the process so that they know exactly how their home will be taken care of during this whole event," Elton says.
If you have any kind of sewage-related issue, and you only want to trust your property to the best in the industry, then you need the expert assistance of our sewage backup cleanup Birmingham experts today!