Water Damage Fultondale
Eliminating the challenges inherent within the nature of a toilet overflow or other water damage Fultondale event is work best left to the IICRC certified and trained professionals with 911 Restoration Birmingham and owner Elton Riley to be done properly the first time.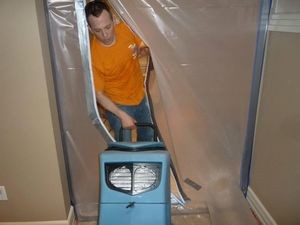 When water damage strikes it tends to do so at unexpected times and places, and this means that restoration professionals need to be ready and available 24/7/365 so that they can get straight to the core of the concerns.
"Getting right to business means that our teams arrive within 45 minutes of a distress call," Elton explains. "We do this so that we can mitigate any increased damage that might be caused through lingering water at the location such as mold growth or fungus infestations."
Elton and his crews know that the longer water is allowed to stagnate the more potential it has to cause loss for the property which is why they always prioritize the needs of their customers on every job.
Don't let an unexpected water damage situations befall your lovely home. Contact Elton and the specialists with 911 Restoration Birmingham to get any challenges solved quickly and at a truly affordable price today!
Preventing Flooding Failures in Fultondale
Elton and his teams of water damage Fultondale masters know that the best way to prevent the need for restoration services is to do regular and simple maintenance on areas that might seem inconsequential but are in fact some of the major contributors to water damage insurance claims.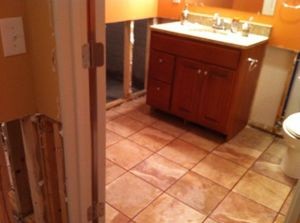 "People always forget that cleaning out their gutters isn't done simply to keep them pretty looking. It's done to keep them from forming clogs which then form overflows which then flood the interior of the roof line and cause ceiling leaks that can be extremely costly to repair," Elton explains.
Additionally homeowners should have their entire plumbing system inspected every few years so that any small wear and tear places in the pipes can be identified and eliminated before they grow to become water damage Fulton sources.
"Homeowners should always make sure to check the status of their fittings and hoses on the appliances in their homes that have water connections," Elton explains. "Finding tiny abrasions on these pieces can help to prevent water damage when they become pressurized and split."
Never let your home experience a water damage Fultondale situation simply because of a faulty hose on the back of an appliance. Contact Elton and his teams of experts with 911 Restoration Birmingham today and get all the help you need immediately!
Standing Flood Water from Construction Project Gone Awry
Elton and his water damage Fultondale specialists with 911 Restoration Birmingham have been providing solutions to the varied nature of water damage situations for long enough that there aren't any surprises left in the business that they can't tackle.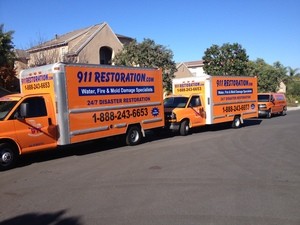 This has led to some interesting scenarios during their time in the field with water damage.
On one occasion, Elton and his crews got called out to a water damage Fultondale project that involved a home which was undergoing some renovating.
"The construction crew that was working on the house hit the main water line with their excavator and essentially flooded the entire house," Elton explains. "There was at least a few inches of water over the entire first floor. What a mess."
But Elton and his teams got straight to work and started water removal immediately. At the same time, they fixed the problem with the main line and stopped the flow of water into the home too.
"We did double duty and it all came together really well and we got control over the situation in no time," Elton says. "Then we started the dry-out process and a few days later, we gave the keys to the castle back over to the construction company and crossed our fingers for the homeowner that they would be more careful going forward."
This high level of skill and expertise at solving complicated challenges is just the kind of quality restoration work that Elton and his water damage Fultondale teams bring to every project that they endeavor.
Don't let your home become a flooded water damaged mess. Contact Elton and his specialists with 911 Restoration Birmingham and let them take care of all your restoration needs for an incredible rate today!