Water Damage Restoration
Water damage, no matter what its point of origin, is well within the wheelhouse of Elton Riley and his sons who run 911 Restoration Birmingham.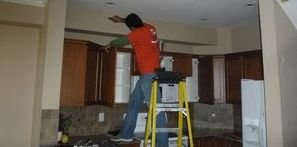 With so many years of experience in everything from carpet cleaning to total restoration work, the Riley's are consummate experts at all levels of the industry.
Our water damage restoration Birmingham pros are available 24/7/365 and guarantee to arrive within 45 minutes of receiving your call in order to assist you to the best of our ability.
This heightened skill level is only the beginning of what makes them your best option for any sort of water damage restoration need.
Beyond their experience and the fact that they are all highly trained and work with IICRC certified specialists, they are also the most caring individuals in the state of Alabama.
This helps when your home has been taken over by water damage, and you want a professional who knows the work, but also has the time to walk you through everything so that you understand the whole restoration process that will be performed on your home.
"Many other companies in the industry don't take the time to tell homeowner's what will happen in the process," Elton says. "We do, because we want people to know that they're home is in good hands by the best in the business."
Elton and his sons know that extracting the water from a home or business is the easy part of every job. The hard part is reassuring the homeowner that in the end, everything will be fine, and their home may even look better after all is over. With such experience and talent, the Riley's leave homeowners a smile on their face when the work is done, and that's just a part of the job.
Tornado Disaster Restoration Preparation
Being in the heart of Alabama, Birmingham is no stranger to tornadoes, and neither is the Riley family for that matter. Taking precaution for every conceivable kind of weather event is just a part of the business for Elton and family, and that's why they want you to know what they know.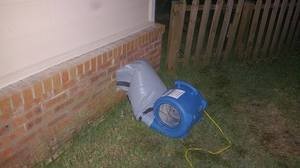 One major thing that homeowners should do before tornadoes hit is to tape up the windows of the home or business.
This helps to keep glass from shattering if it breaks, and by remaining in place, it will provide an additional barrier against the elements should the worst occur.
Having specialized insurance plans, such as riders specifically covering the effects of tornadoes, is also a recommended step to take before the disaster event.
Elton and his sons will work with your insurance company to find a truly affordable price for all necessary water damage repairs your home or business needs to get back up and running again.
Water Damage Prevention Preparation
The Riley's have taken care of all different kinds of water damage scenarios during their time in the field, and with such expertise there is little that gets in their way of doing great work, no matter what the temperature or conditions are.
One method that Elton suggests for preventing roof damage through heavy rain is to simply clean out the gutters and downspouts.
Water damage can occur when the layers to the roof start to swell and separate. This can happen when the gutters are full or debris and cause overflows.
Preventing overflows will prevent swelling and spreading, which will in turn prevent water from creeping into the recesses and causing havoc.
Cleaning gutters may not be a fun job, but it's certainly better than having to replace an entire roof because of the damage that doing nothing can cause.
Elton and water damage restoration Birmingham pros at 911 Restoration of Birmingham will be here at all hours of the day and night to solve any issue that your home or business may have. Don't hesitate with water damage as it will only get worse, so call Elton now!