Water Damage Restoration in Birmingham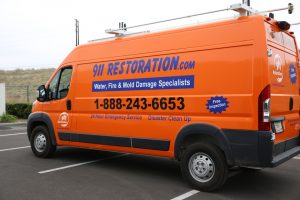 Getting help after a flood, sewage backup, or pipe burst in Birmingham, Alabaster, Bessemer, and surrounding areas is easy. You can reach out to the professionals at 911 Restoration of Birmingham 24/7/365 to get a Fresh Start. IICRC certified water damage restoration professionals can reach your property within 45 minutes of an emergency call.
All flood cleanup techs at 911 Restoration of Birmingham are licensed, bonded, and insured to handle you needs after a natural disaster or plumbing emergency. Techs come prepared with cutting-edge restoration equipment and the experience to return your property in Bessemer to better-than-new condition. We are ready to:
Pump Water Out of Your Flooded Basement

Provide Emergency Storm Repairs and Boarding Up Services

Clean and Disinfect Your Property After a Sewage Spill

Handle Leaking Wall Repairs and Ceiling Leaks

Focus on Damage Caused by Frozen Pipes and Ice Dams

Deal with Carpet Water Damage 

Dry and Dehumidify Your Property

Repair Structural and Aesthetic Damage Caused by Water
The property restoration experts at 911 Restoration of Birmingham also have the training to deal with mold infestations caused by water damage. Reach out to Birmingham mold removal experts if you need help with mold decontamination in your home or business. Crews can check for a fungal infestation with a mold inspection in Birmingham.
Call us at (205) 440-3745 to provide you water damage repair and water damage services in Birmingham and please allow us to offer you a free visual inspection.
Our mold removal professionals can work fast to remove all forms of fungal growth from your property in Alabaster, including toxic molds. You can get back your peace of mind by allowing us to handle Birmingham mold remediation and water damage restoration Birmingham if you have a flooded basement or any other water damage emergency.
How Will Birmingham Flood Cleanup Techs Repair Your Property?
You may be wondering about the steps in flood cleanup in Birmingham, Bessemer, Alabaster, and surrounding areas. This process can help you recover from a pipe burst, flood, hurricane, or even a tornado. Birmingham water damage restoration techs may:
Use Water Pumps to Extract Water from Your Property

Take Steps to Stop Additional Water from Entering Your Home or Business

Pack Out and Store Your Undamaged Belongings

Seek Out Hidden Moisture with Infrared Scanners

Set Up Fans and Dehumidifiers to Dry Your Property

Scrub Down All Areas Exposed to Excess Water

Disinfect Areas with Toilet Water Damage

Handle Total Property Renovations and Repair
The crews at 911 Restoration of Birmingham have years of training and experience. They can take on a flooded basement, a sewage backup, or a natural disaster in Bessemer. Techs will spring into action quickly, offering same-day services to property owners who experience carpet water damage, a backflow pipe burst, or hurricane damage.
Getting help right away can reduce the total amount of damage to your home or business in Alabaster. Beginning water damage restoration service in Birmingham quickly can also help you avoid a mold infestation. Mold grows quickly in damp areas, which is why flood cleanup techs often perform a mold inspection to check for fungal growth.
We provide water damage restoration service in Birmingham, call us at (205) 440-3745 and learn how we can help.
If mold remediation techs spot warning signs during your mold inspection, they can begin prompt mold removal for you. Let us handle all of your property restoration needs in Birmingham and surrounding areas.
Can You Get Fast Mold Remediation in Birmingham?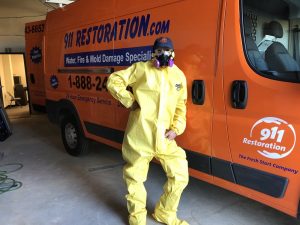 We mentioned that water damage – like the damage caused by a flooded basement in Birmingham – could lead to mold infestation. Mold is a fungus that can damage your property and even threaten your health in some cases. Fortunately, you can start getting rid of mold in under an hour by contacting the mold remediation professionals at 911 Restoration of Birmingham.
Our mold removal Crews in Birmingham know what it takes to erase all traces of fungal growth from your property. They can begin by:
Offering You a Free Visual Inspection for Property Owners Only

Quarantining Areas with Mold Using Plastic Sheeting

Setting Up Air Filters to Remove Mold Spores

Scrubbing Down Surfaces Exposed to Mold

Cleaning Any Items Infested with Mold

Handling Odor Removal with Mold Decontamination
We can take care of both commercial and residential mold decontamination in Birmingham. By the time mold removal is finished, you shouldn't even be able to tell that a mold infestation ever occurred on your property. Let us begin assessing your needs right now with a mold inspection.
Here at 911 Restoration of Birmingham, techs put your needs first after a water damage event, like a pipe burst, flood, or a hurricane. You can count on us to fully renovate and restore your property through mold remediation and water damage restoration in Birmingham. Get started by contacting us. Mold decontamination crews can take your call any time of the day or night.
Serving the communities of Adamsville, Adger, Alabaster, Alton, Bessemer, Birmingham, Brighton, Cahaba Heights, Calera, Chelsea, Columbiana, Dora, Fairfield, Forestdale, Fultondale, Gardendale, Graysville, Greystone, Helena, Homewood, Hueytown Irondale, Leeds, Maylene, Midfield, Moody, Mount Olive, Mulga, Pelham, Pinson, Pleasant Grove, Shelby, Sterrett, Trussville, Vestavia, Vestavia Hills, Vincent, Warrior and surrounding areas.