Water Damage Homewood
If your property becomes flooded, you can trust that the water damage Homewood techs at 911 Restoration of Birmingham have all the training and equipment needed to get your home clean and dry again in no time.
Once we are on the phone with you, a representative will take down the details of your situation and get our water damage Homewood professionals to your home within 45 minutes to remediate all causes of water damage, such as:
Roof and Ceiling Leak

Washing Machine Leakage

Water Heater Explosions

Fire Sprinkler Damage

Main Water Line Leaks

Ruptured Hoses

Toilet Overflow

Leaky Shower Pan

Ice Machine Malfunction Leak

Home Flooding

Pipe Burst
We understand that leaks can occur literally any time, with incidents seemingly happening at the most inopportune moments, which is why our water damage Homewood experts are available 24/7/365, so we can assist you around the clock.
Our water damage Homewood team makes an effort to provide you with same day services for all water based emergencies, because we know that it is necessary to the restoration of your home to get the moisture removed as quickly as possible.
Call us as soon as you notice any water stains or leakage in your household, and we will get to your home quickly to give you a free home inspection today.
Learn How To Keep Your Roof Protected During A Storm
If you experience a leak during a heavy storm you can count on our water damage Homewood staff to mitigate the issue. However, even though we are standing by, it is still important to take preventative measures in order to keep your home safe.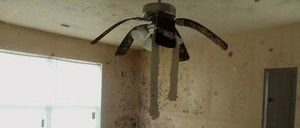 One of the ways you can protect your roof is by creating an emergency roof covering, which will help keep your home's interior dry and your family protected against any storm.
Making a covering is easy. You need is a large piece of plastic tarp that reaches from eave to ridge, plus four extra feet, that measures eight feet wide.
Staple both ends of the plastic to eight-foot-long-two-by-fours and place them on either side of the roof to weigh down the plastic.
Eve though this do-it-yourself roof tarp should help cover any cracks in the roof during a rainstorm, limiting the amount of leaks that could take place, do not hesitate to call our water damage Homewood technicians when you need professional help.
Rest Assured We Will Provide Affordable Flood Services
Even though you can breathe a sigh of relief once we get on the scene, there is still the issue of payment that needs to get resolved. This can be overwhelming, especially if you have never been in this situation before.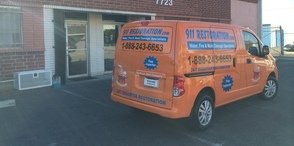 The good news is that our water damage Homewood agents have been in this situation before, many times over, and we have worked with all types of home insurance providers.
We know exactly what information your provider needs to see to get you the best coverage, so, in order to make things easy on you, we will file your claim for you on your behalf.
Even if for some reason your policy does not cover your damage, you can be sure that our water damage Homewood specialists always offer affordable prices on all of our services.
So, call us when you need top of the line assistance, and our water damage Homewood operation at 911 Restoration of Birmingham will make sure you get the affordable, fresh start you deserve.