Commercial Water Damage Restoration in Birmingham
As a commercial property owner, you know the hard work it takes to maintain your investment. So when a sprinkler goes off unexpectedly, a toilet overflows, a washer hose bursts, or a water heater leaks, it leaves not only your building vulnerable, but your time, energy, and money as well. Unfortunately, commercial properties experience water damage more than most, and the effects can be devastating. That's where our experts at 911 Restoration of Birmingham come in.
When your commercial property suffers damage, you need support, not more stress. At 911 Restoration of Birmingham, our workers are licensed, bonded, and insured in all areas of disaster restoration, such as mold remediation, water damage restoration, smoke removal, and more. 911 Restoration is a respected, national brand with over thirty years of experience, and all our branches are locally owned and operated. That means we can focus our attention and care on you, the customer. We serve Birmingham and the surrounding areas, including Alabaster, Bessemer, and Pelham, for all your commercial restoration needs.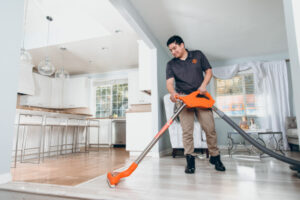 We offer free visual inspections (to property owners only), and we're open 24/7/365 days a year. As soon as you call us, we'll have one of our trained professionals onsite within 45 minutes, and we guarantee an accurate assessment of your commercial property. We don't start work until you approve our estimate, so you won't get any surprise charges with us. By offering same day service, we solve your problem fast.
With commercial restoration services in Birmingham, you can end up paying out of pocket fees that add to your stress. That's why we give you a free insurance consultation, and work with your insurance company every step of the way. For quality repairs you can trust, call 911 Restoration of Birmingham today.
Call us at (205) 440-3745 to provide you commercial roof restoration and commercial restoration services in Birmingham, and please allow us to offer you a free visual inspection.
We Treat our Customers with Respect During a Difficult Time
At 911 Restoration, our name says it all. We're the place you want to call during an emergency, and we stick by your side until the job is done.
We look at the big picture, because we understand that it's not just a building, it's your way of life. After we look at the problem from every angle, we give you a rundown of what to expect during repairs, how much it will cost, and how long it will take. We work with your budget and schedule.
The last thing you want after a fire, flood, or other disaster is more damage to your building. That's why our technicians are always polite, careful, and  IICRC certified. With 911 Restoration, you won't discover a dent in your wall or scratch on your floor after months of work. We treat your property with the respect and care it deserves, and promise to leave it in better shape than we found it. Call us at (205) 440-3745 and learn how we can help.
We operate only the latest professional equipment, and follow all CDC and EPA protocols. Our high-quality machines dry and dehumidify your property efficiently and quietly, so they won't disturb your tenants or customers. We also have state-of-the-art filters that clean contaminated air inside your commercial property, making it safer and smelling better than ever.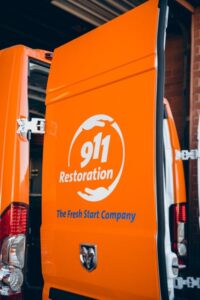 While we extract water from your property, we remove any soaked items or materials. After the property is dry using only the latest equipment, we repair the water-damaged floors, walls, and ceilings. We also do mold inspection, because water damage leaves commercial properties susceptible to it. If we find any mold, our experienced professionals take care of it for you. We also disinfect your facility using only the highest standards, until it's clean, safe, and ready for use in no time.
In addition to water extraction, drying, mold removal, and sewage clean-up, we patch holes, fix doors, replace light fixtures, and any other repairs your commercial property needs. At 911 Restoration of Birmingham, we know every detail of your commercial property matters. Call our knowledgeable staff today to get your commercial property in its best shape ever.
Your One-Stop Shop for Disaster Restoration in Birmingham
Knowing what kind of commercial cleanup company you need can be confusing. At 911 Restoration of Birmingham, we handle all your property restoration needs, so there's only one number you need to call. For more proof of our expertise and top notch service, check out testimonials from customers we've helped just like you.
We provide biohazard cleaning services in Birmingham, call us at (205) 440-3745 and see how we can help you.
When damage hits your commercial property, we know you're going through a traumatic time, and you need compassion more than ever. We believe in finding the silver lining in even the toughest situations. For help with your commercial property, call 911 Restoration of Birmingham today.
Serving the communities of Adamsville, Adger, Alabaster, Alton, Bessemer, Birmingham, Brighton, Cahaba Heights, Calera, Chelsea, Columbiana, Dora, Fairfield, Forestdale, Fultondale, Gardendale, Graysville, Greystone, Helena, Homewood, Hueytown Irondale, Leeds, Maylene, Midfield, Moody, Mount Olive, Mulga, Pelham, Pinson, Pleasant Grove, Shelby, Sterrett, Trussville, Vestavia, Vestavia Hills, Vincent, Warrior and surrounding areas.