Water Damage and Mold Removal in Birmingham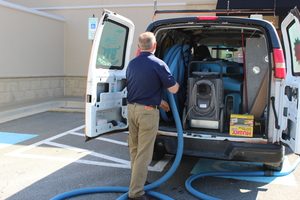 Secure a Fresh Start after a water damage emergency like a flood, sewage backup, or pipe burst in Birmingham. The professional help you need is available 24/7/365 from 911 Restoration of Birmingham. Our IICRC certified mold removal techs and water damage restoration in Birmingham can reach your property within 45 minutes of an emergency call to:
Go Over Your Needs with a Water Damage and Mold Inspection

Clean Up a Flooded Basement or Crawlspace

Extract Water from Your Home or Business

Take Care of Drying and Dehumidifying Your Property

Complete Total Mold Remediation 

Remove Odors and Renovate Your Home or Business
You can get same-day help with flood cleanup and mold decontamination in Birmingham. Mold remediation techs will spring into action quickly if you have a flooded basement, a ceiling leak, or any other water damage emergency. We provide water damage restoration service in Birmingham, call us at (205) 440-3745 and see how we can help you.
What Tools Are Used in Water Damage Restoration in Birmingham?
Birmingham water damage restoration and mold removal can be completed easily by experienced techs armed with cutting-edge equipment. The professional flood cleanup experts at 911 Restoration of Birmingham can arrive at your property with:
Pumps to Remove Water

Infrared Scanners to Find Hidden Moisture

Dehumidifiers, Fans, and Air Movers

Cleaners Designed to Disinfect Your Property

Plastic Sheeting to Isolate Damaged Areas

Air Filters to Get Rid of Mold Spores
Years of experience with mold decontamination and flood cleanup in Birmingham have prepared us to handle all of your property restoration needs. We can develop a personalized water damage restoration and mold remediation plan for you based on the results of your mold inspection and water damage restoration in Birmingham.

Call us at (205) 440-3745 and please allow us to offer you a free visual inspection.
Take the first step into completing renovating and restoring your property after a pipe burst or if you're dealing with a flooded basement in Birmingham. Mold decontamination techs are standing by to take your call around the clock with a mold inspection.
How Quickly Can Techs Finish Mold Remediation in Birmingham?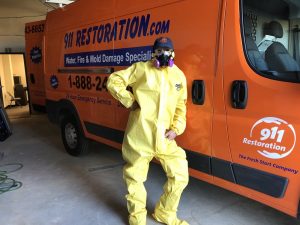 Getting your property back to better-than-new condition quickly is important after you experience a flood, sewage backup, or pipe burst. That's why the mold remediation and water damage restoration experts in Birmingham will offer you same-day services. They can generally complete Birmingham flood cleanup and mold removal within 1-to-5 days.
Techs can complete a mold inspection to provide you with a more accurate estimate on the time-frame for flood cleanup and mold decontamination in Birmingham. Crews will not consider the job done until all traces of water damage and mold growth have been erased from your property.
Call us at (205) 440-3745 and learn how we can help.
Let us help you recover if you have frozen pipes, a pipe burst, a flooded basement, or a sewage spill in your property. Start flood cleanup and mold remediation in Birmingham right now to get a Fresh Start.
Servicing the cities of Adamsville, Adger, Alabaster, Alton, Bessemer, Birmingham, Brighton, Cahaba Heights, Calera, Center Point, Chelsea, Clay, Columbiana, Dora, Fairfield, Forestdale, Fultondale, Gardendale, Graysville, Greystone, Grove, Helena, Homewood, Hueytown, Indian Springs, Irondale, Leeds, Maylene, Midfield, Montevallo, Moody, Morris, Mount Olive, Mountain Brook, Mulga, Pelham, Pinson, Pleasant Grove, Shelby, Shoal Creek, Springville, Sterrett, Trussville, Vestavia, Vestavia Hills, Vincent, Warrior… and surrounding areas.