Reconstruction & Restoration-Related Insurance Claims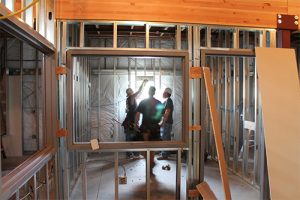 Water, fire damage, or mold have a way of disrupting lives and leaving physical, mental, and financial scars on property owners. Recovering from these can get rather messy as it may involve complete restoration services, which often include the reconstruction of walls, floors, and roofs.
Apart from these issues, there is also the element of stress and fatigue involved, which doesn't have a monetary cost but is equally taxing nonetheless. On top of managing your family, you may have to deal with restoration services and insurance as well.
911 Restoration aims to be a helping hand for you in this time of need, getting you back up and resume your normal life as soon and professionally as possible. To facilitate you, we make a point of working as quickly as we can when analyzing the damage, filing an insurance claim, helping you get a favorable settlement, and reconstructing your home to mitigate future disasters.
Our Restoration vs Reconstruction Process – What's The Difference?
Restoration
Property restoration, by definition, means bringing your home or commercial property back to its original condition before the disaster occurred. Home restoration isn't just limited to disaster mitigation, but also includes bringing architectural wonders and historical sites back to near-pristine conditions.
The restoration work includes bringing the original styles, color, and finish back. However, 911 Restoration gives you different options in this regard. You can choose a different color or style when restoring your property. We are already working on your home as it is; why not make the most of it?
The term "restoration service" specifically means getting a service to replace older or damaged material with material that has been treated and repaired to give results that are in line with the original aesthetic of the place.
Restoration insurance claims usually amount to the complete cost of restoration you had to bear. The adjusters evaluate your property's current value, consider the damage and how much it would cost to get it repaired, and release the funds after due proceedings for the full amount.
911 Restoration works closely with several insurance companies throughout the US to make sure you get a favorable decision here and the amount covers the true cost of restoration.
Reconstruction
Property reconstruction often means bringing the frame of whatever is standing to build it back up. This doesn't mean that if your drywall has suffered sewage water damage and now has mold, we will bring the whole house down, though. Restoration would involve removing the moldy and damaged panels, drying the wooden skeleton, and reinstalling new drywall (or if possible, we would try to salvage the old drywall).
Reconstruction, on the other hand, would involve completely removing the skeleton as well. There is no concept of salvage. Instead, you get a completely new wall.
When the two concepts are compared, reconstruction has a much wider range of possibilities in terms of what you can accomplish. As mentioned above, restoration is geared towards bringing our home to its former glory. Reconstruction has a much wider scope.
You can freely choose different options and change the aesthetics as you wish. For example, you might have wanted a wall removed that's between the kitchen and living room. Now that it has been damaged, instead of getting it repaired, it might be the perfect opportunity to get it removed neatly.
When it comes to the insurance claims for your home's reconstruction or commercial building, you may not be able to claim the full amount against your insurance policy. This is because most home insurance clauses only include recovery of damages and not upgradation.
If the adjuster thinks that you don't need a reconstruction but a restoration service would be sufficient, they will only cover the cost of restoration. You may have to cover the rest out-of-pocket.
911 Restoration for Reconstruction & Restoration Services
With our help, you can get your home or business back to its former glory before the incident, and that doesn't just include removing damaged items or cleaning up but also reconstructing damaged parts of your place. 911 Restoration experts work directly with your insurance company during the reconstruction process to ensure you don't have to worry about a thing.
We'll come to an agreement on what needs to be done and how much it would cost with your insurance company, which will make the process much more streamlined for you. This process begins with a simple phone call from your end to schedule a service or gets a quote. From there, we take over the rest while you take a much-needed break.
During the whole process, we keep asking for your feedback which helps us do more for you. By going above and beyond, we make sure you have the helping hand you needed in your time of need. After the restoration service and reconstruction process is complete for your home or commercial building, we will request you to complete a simple form accepting the completed work – and give feedback.
So when in need, give us a call and 911 Restoration experts will be right over!